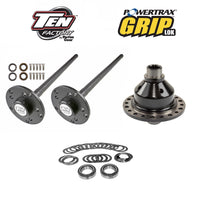 Super 35 Ten Factory Rear Axle Kit w/ Grip Lok Locker for Jeep YJ, XJ, ZJ & TJ w/ Dana 35
TEN Factory: Precision Forged for Quality, Strength and Performance - All TEN Factory axles feature a 10-year replacement warranty! Front axles and two axle rear kits are black oxide coated. TEN Factory is the brand you can trust for the highest-quality engineered axle shafts and replacement kits. Built with the toughest materials, the wear-resistance of forged steel is heat-treated to produce durable axle shafts for your Jeep, car or truck. Buy with confidence knowing that the latest technologies in metallurgy, heat treating and CNC machining have produced an axle you can count on in the most difficult conditions.
If you are looking for the ultimate in traction, the Powertrax® Grip LOK can handle the torque of engines producing up to 550hp. It combines the fully-automatic locking action of our traditional locker, with the strength of a fully machined case.
Using our automatic locking technology, the Powertrax Grip Lok delivers automatic mechanically actuated traction. This is our strongest locking differential, offering the ultimate in competition for street, strip and off-road capabilities.
Fits:
1991-1995 Jeep Wrangler YJ

1997-2006 Jeep Wrangler TJ

1991-2001 Jeep Cherokee XJ (w/ Dana 35)

1993-1998 Jeep Grand Cherokee ZJ
Features:
BIGGER 30 Spline Upgrade (vs stock 27 spline)

1541 Manganese Axles

Automatic Mechanical Locker (similar to Detroit Locker)
Fits 3.54-Up Ratios
C-Clip Axles
Carrier Set Up Kit Included 
Ten Factory p/n MG22134
Grip Lok p/n LK443530