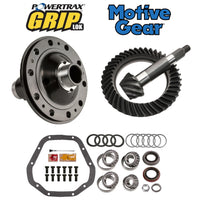 Dana 60 Front High Pinion Grip Lok and Motive Gear Package
If you are looking for the ultimate in traction, the Powertrax® Grip LOK can handle the torque of engines producing up to 550hp. It combines the fully-automatic locking action of our traditional locker, with the strength of a fully machined case.
Using our automatic locking technology, the Powertrax Grip Lok delivers automatic mechanically actuated traction. This is our strongest locking differential, offering the ultimate in competition for street, strip and off-road capabilities.
Motive Gear stock performance ring and pinions are excellent replacements for OE. Experienced installers prefer our ring and pinions for easy setup, superior strength, quality, and our vast ratio selection. Motive Gear produces the industry's widest range of OEM replacement ring and pinions. Engineered to the highest standards, every Motive Gear product goes through rigid quality control processes in our in-house lab. In combination with Motive Gear's performance and axle divisions: Motive Gear Performance and TEN Factory, there simply isn't a better value in drivetrain components.
Fits:
1979-2016 Ford Front Dana 60 High Pinion
Includes:
LK436035 Powertrax Grip Lok Automatic Locker
Motive Gear Ring & Pinion 8620 Steel
Koyo or NTN Master Bearing Kit w/ Shims
Ring & Pinion p/n's: D60-410, D60-456XF, D60-488XF, D60-513XF or D60-538XF