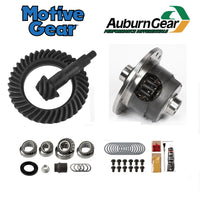 2007-2017 Toyota Tundra W/ 10.5" Ring & Pinion and Auburn Posi Package
Grip-N-Loc™ utilizes exclusive Cone-Clutch technology to impart a bias across the axle when one wheel experiences low traction. When a wheel begins to lose traction and spins, the differential shifts torque away from the low traction wheel to the wheel with most traction. As wheel slippage increases so does the gripping force within the differential so the Cone Clutches distribute power across the entire axle. The wheel experiencing most traction receives more power and the wheel with less traction gets less power, helping the driver maintain forward motion.

By multiplying torque to one wheel, greater forces come into play within the differential. To retain integrity under high stress Grip-N-Loc™ is engineered with higher-grade materials than used in OE type differentials. Premium materials help Grip-N-Loc™ to confidently deliver increased torque bias across the axle. Product strength and durability also allows us to offer a standard 2-year warranty with Grip-N-Loc™.
Fits:
2007-2017 Toyota Tundra w/ 5.7L (Rear Axle)
Includes:
10.5" Ring & Pinion 8620 Steel (see notes below)
5460134 Auburn Grip-N-Loc Posi 36 Spline
Master Bearing Kit (OEM)
Notes: 4.10 and 4.30 ratio made by Innovation Gear & Axle in a Face Hob/2-cut style gears. 4.88 and 5.29 made by Motive Gear in a Face Mil/5-cut style gear.