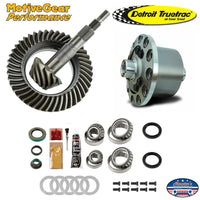 2004-2006 Pontiac GTO Detroit Truetrac, Motive Gear Ring & Pinon and Master Bearing Kit Package
The Detroit Truetrac differential operates as a standard or open differential under normal driving conditions, allowing one wheel to spin faster or slower as necessary. When a wheel encounters a loss of traction or the terrain changes, the gear separation forces take effect and transfer torque to the high-traction wheel. The helical-shaped gears mesh with increasing force until wheel spin is slowed or completely stopped. When the vehicle exits the low traction situation, the differential resumes normal operation.

Motive Gear Performance ring and pinions are perfect for dedicated racing or off-road vehicle. Our gear sets are made from first-run steel, we never use recycled metal. This allows Motive Gear Performance ring and pinions to handle the extreme torque from high horsepower racing engines. Extensive engineering, computer controlled heat treatment, superior strength, quality and the widest selection of racing gear ratios, makes Motive Gear Performance ring and pinions the clear winner! Engineered to the highest standards, every Motive Gear Performance product goes through rigid quality control processes in our in-house lab. Motive Gear Performance: What the pros run!
Fits:
Includes:
Detroit Truetrac 28 Spline
Motive Gear Performance Ring & Pinion 7.75" 9 Bolt
Timken Master Bearing Kit w/ Axle Seals
Part Numbers: 912A642, G80370, G80390, G80390 & DRK-326AMK