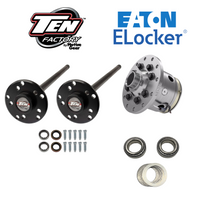 1991-2006 Jeep Super 35 Rear Axle Kit w/ ELocker
TEN Factory: Precision Forged for Quality, Strength and Performance - All TEN Factory axles feature a 10-year replacement warranty! Front axles and two axle rear kits are black oxide coated. TEN Factory is the brand you can trust for the highest-quality engineered axle shafts and replacement kits. Built with the toughest materials, the wear-resistance of forged steel is heat-treated to produce durable axle shafts for your Jeep, car or truck. Buy with confidence knowing that the latest technologies in metallurgy, heat treating and CNC machining have produced an axle you can count on in the most difficult conditions.
The Eaton ELocker is an electronic, selectable differential designed for drivers that need traction on-demand. At the flip of a dash switch, drivers can go from open to 100-percent locked. A second flip of the switch deactivates the unit to resume normal driving. The ELocker is the most reliable on-demand differential, featuring selectable operation and net-forged gears for added strength.
Fits:

1991-2006 Jeep YJ, TJ, XJ & ZJ w/ Rear Dana 35
Includes:
MG22134 Ten Factory Rear Dana 35 Axle Kit, 30 Spline Upgrade 1541H

19822-020 Eaton ELocker Dana 35, 30 Spline Upgrade

Carrier Bearing Set Up Kit