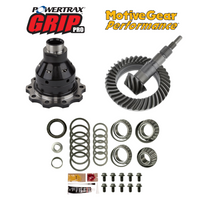 2008-2009 Pontiac G8 Grip Pro Posi, Motive Ring & Pinion Gears and Master Bearing Kit Package
Upgrade your rear axle and add torque by changing ratios and installing a Grip Pro Posi with this kit!
Includes:
Motive Gear Performance Ring & Pinion (choice of 3.27, 3.45, 3.70, 3.90 & 4.11 ratio) 
Powertrax Grip Pro Posi (p/n GT230432)
Timken Master Bearing Kit (p/n DRK-326BMK)
For vehicles that are driven daily, the Powertrax No-Slip Traction System is the latest design in quiet traction-adding differential technology. It combines the automatic street-friendly smooth operation of a limited-slip differential with the traction performance of a locking differential. The Powertrax No-Slip locker easily installs in to your differential carrier using basic tools and without affecting your ring and pinion settings. Powertrax Grip-Lok, Lock-Right Lockers and No-Slip Traction Systems automatically provide 100% traction on-demand, under the toughest circumstances. The Powertrax Grip-Pro and Grip-LS performance limited slips offer smooth dependable torque transfer and traction for the best of both worlds!
Also fits:
2011-2017 Chevrolet Caprice

2014-2017 Chevrolet SS
Ring & Pinion p/n's: GZ85327, GZ85345, GZ85370, GZ85390, GZ85411